Join thousands of employers who have found outstanding employees!
COMPANY OVERVIEW
Founded in 1974 by Sue Burnett, Burnett Specialists is a privately-held, employee-owned, Houston-based recruiting, temporary staffing, and headhunting company with offices in Houston, The Woodlands, Austin, El Paso, San Antonio, and Dallas, where we operate as Choice Specialists. Nationally certified as a woman-owned business, we are widely respected as a diversity vendor.
We offer our employers and clients the convenience of utilizing one localized source for all their recruitment needs from temporary staffing employees to direct-hire salaried professionals. We have dedicated recruiting teams focusing specifically on unique skill specializations including: Accounting & Financial, Administrative, Call-Center & Customer Service, Convention & Event Support, Engineering, Healthcare/Medical, Human Resources, Information Technology, Legal, Light Industrial, Management, Real Estate, Sales & Marketing, Supply Chain & Logistics, and Training.
CORE VALUES
We own it.  We own our opportunities, our successes, our relationships, our challenges, and our company.
Do the right thing.  We use our moral compass as our guide.  "We" before "me" mentality.
Exceed expectations.  Strive to go above and beyond.
People first. 

Respect for our clients, candidates, and team = success for our company as owners. We treat others the way we would want to be treated.

Give back to the community. 

It is our corporate and social responsibility to give back with the intention of making positive impacts in our communities.

Celebrate success! 

We have fun and we recognize hard work.
Our Employment Agency Services
A hiring solution matching job seekers with employers for the purpose of establishing a full-time, long-term employment relationship. No upfront fees and guaranteed results.
Our pre-screened and qualified candidates would start out with a client company as a Burnett employee for a trial period during which both the employee and the client consider establishing a long-term employment relationship.
Top notch employees available for short-term and long-term assignments. These positions are billed at an hourly rate and range from entry-level to skilled professionals.
Our e-Commerce solution can support your company's vendor consolidation platform. We have a division dedicated exclusively to the needs of clients who utilize vendor management and applicant tracking systems.
Trust your next event to Texas' most respected Convention and Special Projects management team. Our expertise is turning your vision into reality! To make your event run smoothly, you need qualified support staff.
Would you like to have specific full or part-time personnel that you have pre-selected working at your company for the length of time you need them, without actually having to hire them?
LEADING TEMP STAFFING AND EMPLOYMENT AGENCY WITH RECRUITERS
IN HOUSTON, AUSTIN, EL PASO, SAN ANTONIO AND DALLAS
Our clients and employers are able to communicate directly with the owners of our company. This allows Burnett Specialists to assure dedicated and professional service from our recruiting teams. Our team is there for you every step of the way to ensure that the talented candidates you are looking for match the desired skill sets and requirements to help your company grow. We are ranked among the top temporary staffing agencies and direct-hire placement firms in each city we serve. When you are looking for an employment agency with a track record for success, Burnett Specialists and Choice Specialists should be at the top of your list for all of your recruitment needs.
Top Texas temporary staffing and direct-hire recruiting service
Unlike many staffing and recruiting agencies, we offer you the advantage of dealing directly with the owners of our company. In 2010, Sue and Rusty Burnett decided they wanted to give back to the people who helped make their company a success. They did an Employee Stock Ownership Plan as a strategy for the company's future. Both full-time staff and temporary/contract staffing employees take part in this unique ownership.
We are now Texas' largest employee-owned staffing and recruitment agency as ranked by the National Center for Employee Ownership. We are also a nationally certified woman-owned business with Sue Burnett continuing as President.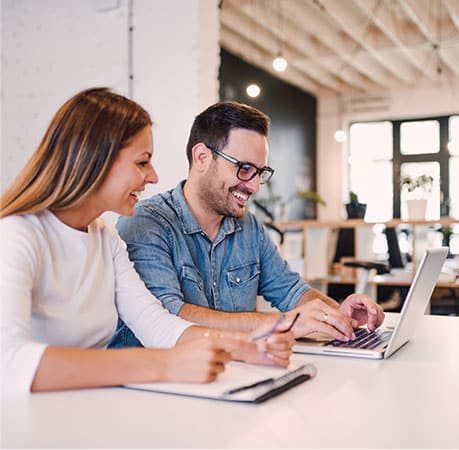 Employer services designed to meet the needs of Texas businesses
Our employment services are specifically designed to meet the temporary staffing and recruiting needs to Texas businesses. We have the capability to provide the type of recruiting services that best fit your company's needs, including:
Direct Hire Placement
Temporary Staffing
Temp-to-hire
Payrolling
On-Site Partnerships
VMS / MSP
Transfer your recruiting and staffing process onto our experienced shoulders, and we'll work to improve your time-to-hire, increase the quality of your candidate pool, reduce cost, and improve governmental compliance.
Employer Frequently Asked Questions
What is the benefit of working with a staffing agency?
In a job market where qualified candidates have their pick of jobs, it helps to have someone else vetting talent and making the "sale" of your company for you. With unemployment at an all-time low, you need every resource possible to acquire the caliber of candidates that will move your company forward.
Our company has never used a staffing firm before, how does the process work to get started?
In a candidate-driven market, using a staffing firm will be a huge benefit and resource for your company's hiring needs.  The process starts with a conversation with one of our account executives or recruiters about your company culture, hiring needs/preferences, what you are looking for, your timeline, etc.  We will also discuss terms and fees that apply to your company and will then issue a contract for your review based on the agreed-upon terms.  Our fees are contingency-based meaning you only pay a fee once we find the right candidate for your role.  The initial agreement process is standard within our industry and is as quick as you need it to be.
Once the agreement process has been initiated or executed, our recruitment team can start taking job orders from you/your hiring manager and get to work finding candidates for your open positions. 
What makes your staffing firm different from other agencies?
Great question.  Our staffing firm is the largest employee-owned staffing firm in the state of Texas and the 2nd largest in the U.S. – that means you will be working with an owner of the company before, during, and after the hiring process.  As employee owners, our team's mindset is much more invested in your company's success because that ultimately drives our success and passion for what we do, which is helping careers and companies grow. 
Also, our company is a nationally-certified woman-owned business.  This is a huge benefit to companies who like to take advantage of the perks of diversity vendor spend. 
Another differentiator from our competitors is our long-tenured recruitment and leadership team as well as how long we've been in business.  Burnett was established in Houston in 1974 with one office and has grown to 9 offices in 6 major Texas cities. The benefit to having multiple offices across the state is our ability to handle your company's hiring needs in multiple geographical locations without having to work with multiple agencies.    
In addition, our company has many different skill specializations because of our diversified recruitment team.  Our wider range of placement services also allows you to work with one resource for your company's different hiring needs than our competitors.  We were recently ranked as the largest direct hire firm and the 2nd largest temporary staffing firm by the HBJ. 
How quickly can you present candidates for my open position?
Because of our proven recruitment process and having been in business for over 45 years, we can present candidates for your open position in as little as 24 hours depending on your hiring needs and requirements.  We've found that the presentation process tends to go quicker with open and efficient communication between your company's hiring manager and our recruitment team. 
What are your "fees?"
Our industry-standard fees are competitive and are equipped with exceptional customer service.  Our direct hire fees are generally a percentage of the employee's first-year salary.  Temporary and temp-to-hire fees are built into your candidate's hourly bill rate.  We also offer payrolling services to employers who want to hire a specific candidate that they have sourced but need to outsource the administrative and hiring process to us.  During your initial conversation with our recruitment team, you discuss any fees based on your hiring needs. 
We also offer a guarantee for our placements.  Should the employee not meet the agreed-upon guarantee time period of employment, we will offer a one-time replacement for that position.
How is my bill rate determined for temporary employees?
We calculate a temporary employee's "bill rate" (the rate at which you are billed for their time per hour) based on several factors.  The bill rate includes the hourly pay rate at which you determine and the administrative expenses, taxes and insurance, employee benefits if applicable, and recruiting and operational costs we incur when providing temporary employees for your company.  By transferring the payrolling and staffing responsibility to Burnett, companies usually see a significant decrease in employment costs. 
Can you help me determine a salary range for the position I need filled?
Absolutely. Think of us as a resource to help attract and retain top talent. Our job is to stay up-to-date on market trends in your industry and we want your company to be successful in reaching your goals.
What is your applicant/candidate screening process?
At Burnett, we interview and pre-screen applicants for our purposes before presenting a potential candidate to employers. Our pre-screening process includes a criminal background check.
Background checks are conducted on candidates we represent. We encourage our clients to conduct an additional background check and reference checks on direct hire candidates during the company's on-boarding process to include any specific or special requirements their company policies may have in place.
Drug testing is conducted at the employer's request, and depending on the level of testing, costs may be passed through to the employer.
What is the difference between a temp-to-hire vs. a direct-hire placement?
There are several differences between temp to hire and direct hire. With a direct-hire placement, the candidate is considered a full-time or direct employee of the client company on their first day. With a temp-to-hire placement, the candidate is an employee of Burnett until the client brings them onto their payroll directly. A temp-to-hire fee is built into the temporary's hourly rate and a direct-hire fee is invoiced on the day the candidate starts.  Employers can hire our staffing employee directly at any time during the assignment for a liquidation fee. 
The candidate pool is also different for temp-to-hire and direct hire placements. With direct hire positions, there will be a much larger candidate pool interested in the position because passive candidates who may already be employed might consider direct hire opportunities. Working candidates generally will not consider leaving a directly employed role for a temp-to-hire opportunity, therefore the number of candidates interested in a temp-to-hire role is usually much smaller, especially in this market, but each company's hiring needs vary on a case-to-case basis.