Voices of Success: Real Feedback from Our Client and Candidate Community
Discover authentic stories of growth and success from our clients and candidates about the unmatched staffing and recruiting services that propelled their careers or company forward.
July 12, 2023
"We've been partnering with Burnett Specialists for 7+ years, and it has been one of the best decisions we've made. Our industry often calls for "speedy" hires/replacements, and often times very short notice of a position to be filled. Burnett has not only provided the quality we look for in our employees, but also the specialized expertise that goes with it. No matter the time of day, which at times is late in the day, Burnett always manages to get the desired candidates in the timeframe required. Most importantly, we've established an excellent working relationship with Burnett, and are very excited to continue in this partnership. Thanks to the entire Burnett team for your dedication and professionalism. You guys are the best!"
-Human Resources Manager, Logistics & Supply Chain
July 12, 2023
"Burnett Specialists has always come through to assist in filling positions for our teams.  There are times when we have a very small window to onboard a candidate, and Burnett will step up to provide support. Additionally, our territory manager Catherine Young, never fails to reach out regarding our employment needs. Thank you, Burnett for excellent teamwork!"
-Corporate Recruiter, Oil & Gas Industry
July 12, 2023
"I have worked with Burnett for over 17 years since working for my previous employer and now with my current employer.  Burnett has always been so helpful in staffing our Warehouse, Shop and Office roles.  Anytime one of my managers are in a dilemma and needs added resources quickly, Burnett is the 1st

 agency I think of before going to anyone else.  I even have a few of my management peers going to Burnett directly themselves whenever they need extra resources because they know they can count on their firm for delivering candidates and completing the pre-employment checks in ample time.  We ❤ Burnett Specialists!"
- Senior HR Business Partner, Machine Services
July 17, 2023
-Matthew R. - Direct-Hire Placement - Operations Manager
July 17, 2023
"I felt that my recruiter added a personal touch to the process. Prompt return calls, always there to answer questions and getting me the optimum offer and package. She really represented me well and promoted my strengths to the client. I can honestly say that I would feel the same even if I didn't land the position."
-Timothy B. - Direct-Hire Placement - Client Relations / Business Development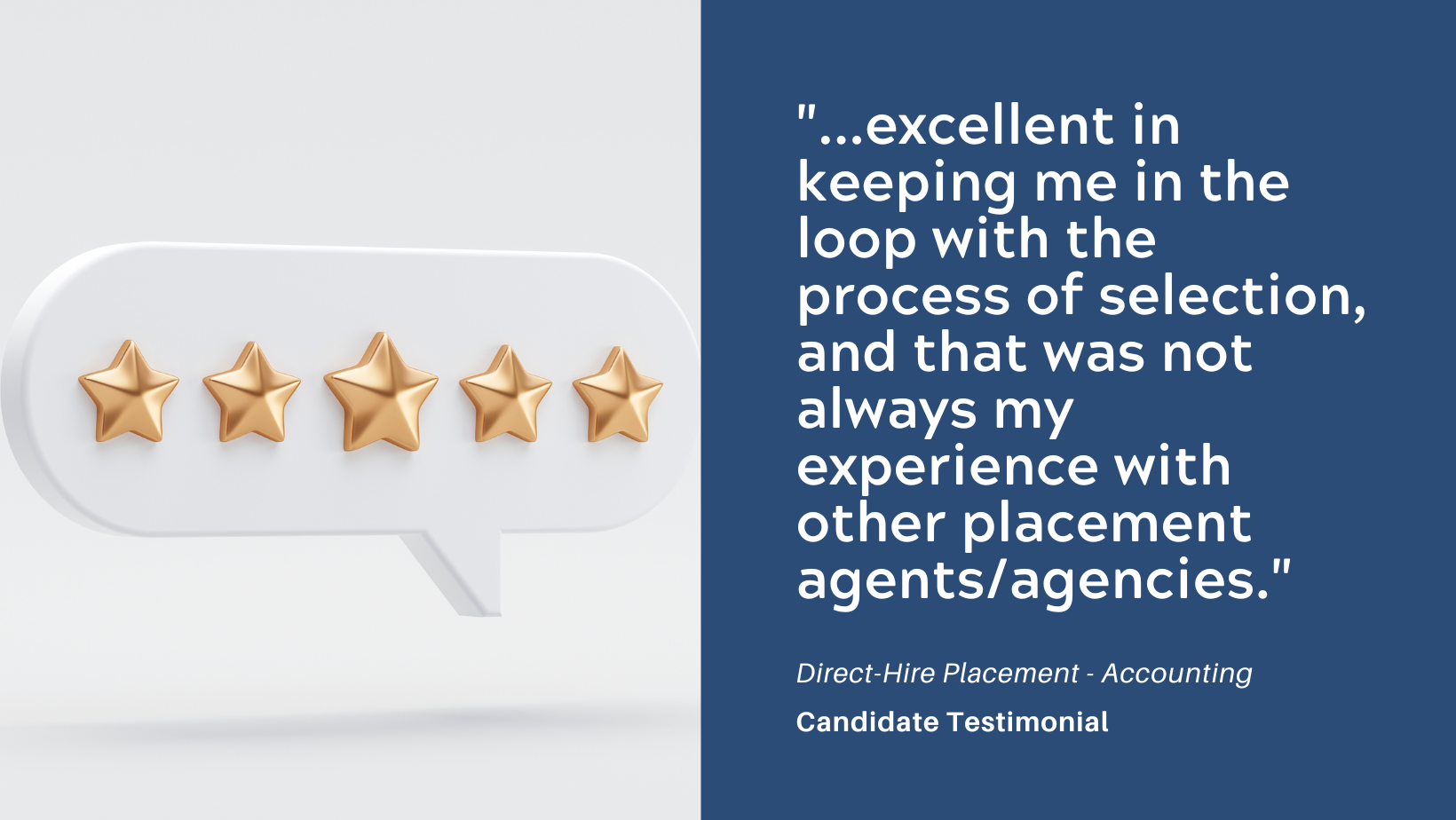 July 17, 2023
Molly and Madison were excellent in keeping me in the loop with the process of selection, and that was not always my experience with other placement agents/agencies. They went over and above my expectations.  You guys are awesome!!!
-Denise L. - Direct-Hire Placement - Accounting Management Position