Job Headhunting Recruiting Company in Texas
When you've got a vacancy in your company and you need a Texas job headhunter to find the perfect candidate for the position, come to Burnett Specialists and let us remove the burden of the hiring process off your shoulders. We work hard to find you the talent to fit your company and fuel your growth. Let us handle it while you focus on thrusting your business ahead.
Why Partner with Burnett Specialists as Your Texas Recruiting Company?
Our award-winning recruitment team has years of expertise achieving concrete, consistent results as a recruiting company in Houston TX. We have been successfully grounded in the headhunting industry longer than most of our competitors in Texas.
We are able to provide our Texas job headhunter services at an extremely competitive price, meticulously measured against the fluctuating job market.
Burnett Specialists proudly excels in a wide range of services enabling us to be your partner for all of your staffing and hiring needs. We place long-term direct-hire positions, temporary staffing solutions, and also temporary-to-hire candidates.
As the largest employee-owned Texas recruiting company out there today, we have the resources and the drive to get the job done right. Our $2.7 million investment in advertising and recruiting ensures finding the right candidates for your company.
Also as an employee-owned business, when you work with a Burnett team member, you are working alongside an owner of the company with a vested interest in your company and the quality of the service you receive.
When you choose us to be your job headhunter in Houston Texas, you're going to be able to utilize some of the best recruiters in your industry. Our industry-specialized teams of recruiters put in the work to make sure we provide excellent talent options for you and your business.
We currently have a talent pool of over 800,000 active candidates, and our recruiters conduct hundreds of new interviews every week. If we don't have the perfect person for you already, we know how to find them.
Contact Us Today
Call (713)977-4777 or visit Burnett Specialists contact us page on the website to find out more about our services. We want to be the people you count on. Give us a chance and see the difference it'll make.
MISSION STATEMENT
Our mission is to make Burnett / Choice synonymous with integrity and proven results; to have our team members recognized as leaders for their professionalism and dedication; and to meet and anticipate needs so that the satisfaction we feel in a job well done is reflected back to us by those we serve.
Senior Vice President
Bank
"Our Human Resources Department recommended Burnett Accounting Specialists to help us fill an open Credit Analyst position. I was somewhat skeptical about using a staffing company to fill an important position for us, but the Burnett team jumped in immediately and asked for the characteristics and experience levels we were looking for. We received several resumes to fill the open position and began interviewing the same week. We quickly found the candidate we were looking for, brought him on board, and have been very pleased with the results. Shortly thereafter, we needed to fill another analyst position with a slightly different skill set. Once again, Burnett quickly got us the requested resumes and set up interviews. We filled that position in a week and have been extremely happy with the results. I am pleased to recommend Burnett to anyone in need of timely performance in presenting pre-qualified candidates for temporary or full-time employment. I am completely confident they will surpass your expectations."
Controller
International Oilfield and Waterfield Products Company
"We recently had two positions filled with your candidates, and we were very impressed with their professionalism and pleasantness. The manner in which you have made this time sensitive and delicate process very smooth and efficient is most appreciated. You are now our main reference when in need of new hires, either temporary or full time. Moreover, I wanted to congratulate you for your dedication and your ability to understand our staffing needs considering the time restraints and the complex nature of our organization."
HR Team
Process and Flow Control Solutions Provider
"We had several difficult positions to fill, and your responsiveness and focus on meeting our staffing needs has decreased our time-to-fill. Your expertise in the industry is evident in the quality of candidates you submit."
Recruiting
International Oil and Gas Company
"Burnett Accounting Specialists is always ready and eager to help me with any search at the drop of a hat. We have a lot of changes that happen, sometimes minute by minute. They are always positive and work on those searches with great enthusiasm. I so appreciate all of their assistance and excellent work ethic. "
Top Texas temporary staffing and direct-hire recruiting service
Unlike many staffing and recruiting agencies, we offer you the advantage of dealing directly with the owners of our company. In 2010, Sue and Rusty Burnett decided they wanted to give back to the people who helped make their company a success. They did an Employee Stock Ownership Plan as a strategy for the company's future. Both full-time staff and temporary/contract staffing employees take part in this unique ownership.
We are now Texas' largest employee-owned staffing and recruitment agency as ranked by the National Center for Employee Ownership. We are also a nationally certified woman-owned business with Sue Burnett continuing as President.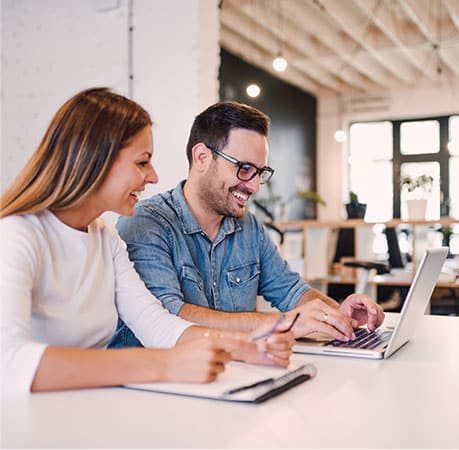 Employer services designed to meet the needs of Texas businesses
Our employment services are specifically designed to meet the temporary staffing and recruiting needs to Texas businesses. We have the capability to provide the type of recruiting services that best fit your company's needs, including:
Direct Hire Placement
Temporary Staffing
Temp-to-hire
Payrolling
On-Site Partnerships
VMS / MSP
Transfer your recruiting and staffing process onto our experienced shoulders, and we'll work to improve your time-to-hire, increase the quality of your candidate pool, reduce cost, and improve governmental compliance.